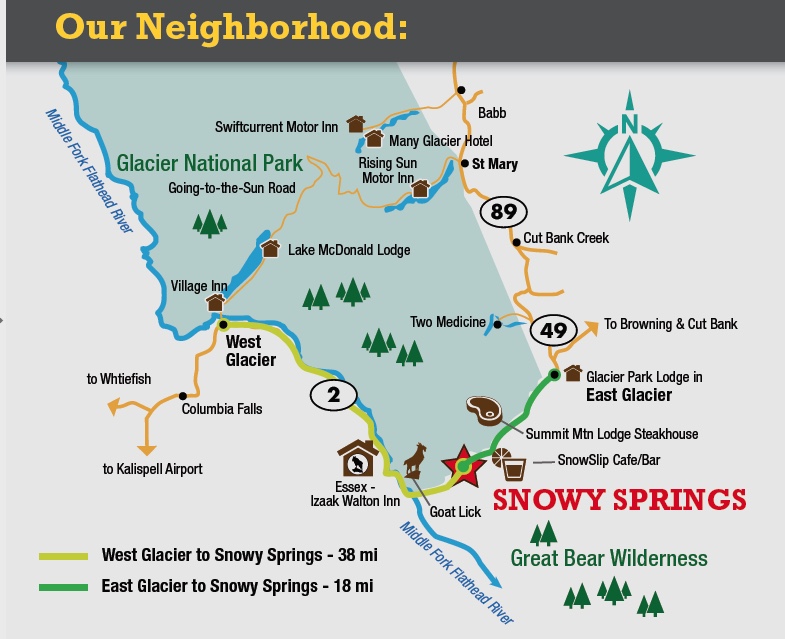 Snow Slip Inn – Within walking or riding distance of Snowy Springs Base Camp, the Snow Slip Cafe' & Bar has a lot of character. They also have The Neighborhood Grocery Store which is a small store but well stocked.
Izaak Walton Inn – Nice Restaurant with mid-range prices and all about trains. The Izaak has tons of personality. Be sure to go downstairs to see old train photos. They have train engines and cabooses turned into rental units.  Playground. We provide Day Rides for them with transportation included.
The Goat Lick – Southern tip of Glacier National Park. Highway 2 is in the Park boundry and passes through the Park for a short distance. Located approximately two miles southeast of the Walter Ranger Station are natural minerals in the ledges going down into the River that attract Mountain Goats and other animals. The goats are famous to the area and were the mascot of the Great Northern Railroad which forged the first rail tracks through in the late 1800's. **Beware – You will see cars pulled over by bridge – It is NOT allowed!!!  Remember Highway 2 is a major East/West Highway. There is a parking lot and observation point for the Goat Lick; if you walk up to the bridge be VERY careful of traffic.
Summit Mountain Lodge & Steakhouse – There used to be a train station on the Summit at Marias Pass; it was later moved and turned into a beautiful restaurant. They serve high end meals with a great atmosphere.
Glacier Park Lodge – Beautiful park lodge located in East Glacier Park. It was the first lodge built by the Great Northern Railway and is the second largest Park lodge. It is well worth visiting the historic hotel and seeing the majestic Douglas Fir logs towering over the lobby,. We provide Day Rides for them with transportation available.
Two Medicine – We love this spot in Glacier National Park. It is very scenic, smaller than other Park lakes and not as intimidating if you take a boat out. All types of boat rentals, boat tours, guided hikes, day hikes, campground, camp store, picnic areas and Ranger-led activities.